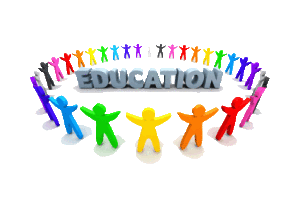 Providing educational opportunities for people of all ages in the community, county, and surrounding areas.
Non-credit classes are offered in cooperation with Southeast Community College on a quarterly basis.  The current class schedule may be viewed online by going to https://www.southeast.edu/classschedules/ and click on the West Schedule under Continuing Education Class Schedules.  You may register for classes online, by mailing in the registration form, or calling the office at the number listed below.
CPR & First Aid certification is offered on an ongoing basis.  Please call the York Community Education office for more information.
CONTACT US:
Lori Suddarth, Coordinator
York Middle School
1730 N. Delaware Avenue
York, NE 68467
Phone: 402-362-6700
Fax: 402-362-6831
lori.suddarth@yorkdukes.org
"Like Us" on Facebook – www.facebook.com/York-Community-Education
Here are a few of the current classes being offered:
Basic Dog Obedience – One of our most popular classes each quarter is our dog obedience class taught by Kathy Johnson.  During this fun eight-week class held on Wednesday or Thursday evenings, you will be instructed on how to train your dog to be a better companion.  Points covered include; walk on a loose lead, sit on command, lie down, come when called, stay on command, and become better socialized.  This class will start on January 18th or 19th and continue through March 8th or 9th, 6 – 7 p.m.  The class is now held at Kathy's new facility, K9 Coach Training, on East 4th Street.  Your dog must be at least four months old.  Tuition is $75.    KEY Word: Dog
Ceilings to Floors – In this class you will learn how to clean efficiently for yourself and/or others. You will learn how to organize and assemble the right tools and products and then learn the cleaning techniques to clean your house from ceilings to floors. Becki Mertens owned a cleaning service for more than 30 years and has all kinds of tips and tricks and experience to share. This class will meet on Tuesday evening, January 24th from 6:30 – 8:30 p.m.  Tuition is $19.  KEY Word: Floors
Living a Gluten-Free Life – Do you or someone you know suffer from gluten sensitivity or Celiac disease and need help? Charlene Dorcey, registered dietitian with personal experience with Celiac disease, will help you learn how to make your life gluten-free. In this class we will discuss meal planning using gluten-free products, the labeling regulations, identify naturally gluten-free foods, and tour Grand Central grocery store. We will learn about new products on the market and taste test gluten-free products. This class will meet on Thursday evening, January 26th at Grand Central Foods from 5:30 – 8:30 p.m.  Tuition is $35.  KEY Word: Gluten
iPad 101 – This class will help you get up and running.  Whether you have just purchased an iPad or want to learn how to get more out of the many features, this course is for you!  This class meets twice on Wednesday evenings from 6 – 8 p.m.  It will be held on January 18th & 25th.  Tuition is $39.  KEY Word: iPad
Planning a Funeral – Think about how long you normally spend planning a wedding, anniversary or special family gathering.  Funerals can cost almost as much, but usually are planned in just a of couple days.  This class will provide you with information and resources so you have time to think and maybe plan ahead so your loved ones know exactly what you want.  This class will be taught by an End of Life Coalition representative and involves no selling, just providing information and resources.  You will meet two consecutive days.  During the second session, you will tour Metz Mortuary.   This class will be held Wednesday & Thursday, January 18-19, 1:30-3:30 p.m. at Kilgore Memorial Library.  Tuition is $10.  KEY Word: Funeral
Button or Piano Accordion – Come learn to play the button or piano accordion in this four-week class.  Beginners are welcome!  We have a few accordions to share, so come learn with us!  Classes will be held on Mondays, January 23rd – February 13th, 6:30-8:00 p.m.  Tuition is $29. KEY Word: Accordion
Learning Windows 10 – This class will show you all the essential features you'll need about the Windows 10 operating system. We will cover making a Microsoft account and why you need it, using the Microsoft store and how to get to and use your applications from anywhere on the machine. We'll also have some information on programs & utilities that are causing problems with Windows 10. This is a bring-your-own-device class so bring your own laptop/tablet/computer that has Windows 10 and we will help get you familiar with it. Questions are welcomed! This is a two-session class, January 24 & 26, 6:30-8:30 p.m. Tuition $39. KEY Word: Windows
Travel Photography – Do you return home from your travels and find that you are disappointed in the pictures you have taken? Let's explore different ways to make your photographs tell the story and have an impact on the viewer. We also will talk about different ways to show your vacation pictures, such as slide shows or coffee table books that you can be proud of for years to come.  This class will be held on Monday, January 30th, 6:30 – 8:30 p.m.  Tuition is $19. KEY Word: Photography
Save Money, Make Your Own! – Learn how to make your own face cream products, using the same ingredients as expensive ones on the market. Learn how to make bath salts, bath oil, hand/body creams and body butter.  You will be given home remedies for all kinds of ailment and you will save money by learning how to make your own around the house cleaning agents.  You will learn top tips from Heloise.  This class will be held on Saturday, January 28th, 11 a.m. – 2 p.m.  Tuition is $45. KEY Word: Save
National 'Quilts of Valor' Sewing Day – Come sew all day and help us make as many Quilts of Valor quilts as we can create.  All quilts created will be given to combat service members and veterans touched by war.  For more information visit: www.qovf.org.  All ages welcome! This class will be held at the Cornerstone Ag & Event Center on Saturday, February 4th, 9 a.m. – 4 p.m.  All fabric and basic sewing equipment will be provided.  Tuition is $15.  Please register by January 27th. KEY Word: Quilts
Ice Fishing – This workshop is a must for 'hard-water' anglers. It covers basic and advanced tactics you will need to know when ice fishing, plus you will get to see equipment you'll need on the ice. You will learn a few simple techniques for finding fish under the ice. Participants will get a chance to see and use quick-set rigs for pike, tip-up rigs for other species and learn about new lures created especially for ice fishing. There will also be a special focus on safety, tactics for rescuing someone who has fallen through the ice and dealing with hypothermia. This class will be held Saturday, January 28th, 1:30 – 3:30 p.m. Tuition is $25. Open to individuals or families and only one adult needs to register.  KEY Word: Fishing
Catfishing: Fishing for Freshwater Trophies – Think what you want about catfish, but here are few other freshwater species that can offer you the opportunity to hook into a 30- or 40-pound fish on a regular basis. This seminar will cover the specialized tackle you need to catch big catfish; techniques for rigging bait; and proven presentations that get big catfish to bite, tips on live bait, vs. prepared baits, the times to fish for big catfish and high-percentage areas to find these monsters of murky waters. This class will be held Saturday, January 28th, 9:30-11:30 a.m.  Open to individuals or families and only one adult needs to register. Tuition is $25.  KEY Word: Fishing
Facebook is for You! – Learn all the neat things this popular social media site can do. Surprise your children, grandchildren and friends with your new-found knowledge. Connect with relatives, friends and even high school and college classmates. You will also learn how to use Facebook safely. This class will be held on Tuesday, January 31st, 6 – 9 p.m. Tuition is $29. KEY Word: Facebook
Bob Ross Oil Painting: Fisherman's Trail – Enjoy a relaxing time painting and gain a wonderful sense of accomplishment.  This class is designed for painters of all abilities, including beginners (aged 14 & up). This class will be held on Saturday, February 4th, 9:30-3:30 p.m.  Tuition is $39 plus a $25 supply fee. KEY Word: Ross
*NEW* Designer Appetizer Tray – Turn a clear eight-inch piece of glass into a work of art using glass powders and frit!  Your project will be fused then slumped into a beautiful tray.  You will love showing this off!  This class will be held on Monday, February 6th, 6 – 8p.m.  Tuition is $80, which includes all the supplies needed. KEY Word: Tray
*NEW* Cyber Security: Staying Safe Online – This class idea was generated by the many questions being asked during our technology classes.  How do we stay safe online?  What about hackers getting personal information? What threats do we need to be aware of?  This class will teach you some steps you can take to keep yourself safe online, inform you of where threats are most likely to happen, and of course, answer more of your many questions.  This class will be held on Tuesday, February 7th, 6:30-8:30 p.m.  Tuition is $19. KEY Word: Cyber
Crochet for Beginners – If you ever wanted to learn how to crochet, this is the class for you.  In this introductory class, you will learn how to read a pattern, the basic stitches, how to finish a project, and apply what you learned to your next project.  This is a five-week class meeting on Thursday evenings at the First Presbyterian Church (York), February 2nd – March 2nd from 6:30-8 p.m.  Tuition is $25. KEY Word: Crochet
Increase your Brain Functioning – Learn techniques to increase the capability and functioning of your mind and brain. You will learn how your thoughts and emotions affect your mind and body as well as learn different breathing and stress techniques that can help with sleep, energy, reprogramming your brain and much more! Be proactive and empower yourself! This class will be held on Saturday, February 4th from 11 a.m. – 2 p.m. at York Middle School. Tuition is $45. KEY Word: Brain
One-on-One Computer Training – We continue to offer an opportunity for you to have one-on-one attention from a knowledgeable computer instructor. You will get four hours of instruction. This class is designed to give you attention on the computer topic you need and want most. Training can include MS Office software such as Word or Excel, Internet or Email, or even organizing files or photos. All levels of experience are welcome. Sessions may be arranged by calling my office. Tuition is $99.
Puppy Kindergarten – This eight-week class has been set up by Kathy Johnson to begin working with puppies between 8 and 16 weeks of age, before they are quite ready for the basic dog obedience class.  Topics will include socialization with other dogs, house training, chew toy training, handling exercises and more.  This class, held at K9 Coach Training, will be an ongoing class, meaning you can register and start anytime. The first available session will be Monday, January 9th, 6 – 7 p.m., but you can register any time through May to begin your eight weeks.  Tuition is $75.  KEY Word:  Puppy
All classes will be held at the York Middle School, unless otherwise noted.  You may register for classes by calling Lori at 402-362-6700, by mailing in the registration form found at the back of SCC Continuing Education brochure, or by registering online: www.southeast.edu/continuing – click on Register Now; look for the key word in the course description in your brochure and that will help you locate the class you would like to register for.  Just a reminder, all classes need a minimum enrollment.  If that minimum is not met three days before the start date, the class may be cancelled.  Sometimes a great class gets cancelled because people wait until the last minute to sign up!  Please register early!  If something changes in your schedule, full refunds are available if you call at least 24 hours before the class begins.