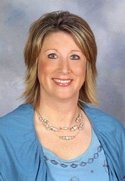 Monday, July 25, 2016
Dear Students & Families,
I hope you have all had a great summer!  I say it every year, but boy time is just flying!  It doesn't seem long ago that we said goodbye for the summer and now we are getting ready to open the doors of YES and kick off a fantastic 2016-17 school year!  
YES will have three new additions to our staff this school year!  Please take the time to welcome each of them when you have the chance, they are truly awesome individuals and will do amazing things for our students!
Kami Flynt

will be our new K-5 Art Teacher.  Kami is not a new face at YES, she has spent many years as a paraprofessional in our kindergarten classrooms.  I am so excited for the students to benefit from her energy, enthusiasm and fresh new ideas!  Kami and her husband Troy have 3 children, Kinsley, Bladyn and Emory.

Amanda Folts

will be working in our SELF program.  Amanda attended high school at Cross County and is a recent graduate of Wesleyan!  She brings with her some awesome experiences and we are excited to have her as part of our team and learn from her!

Libby Kissinger

will be a new 4th grade teacher.  Libby is a recent graduate of Hastings College and has already spent a great deal of time in York as she is also the assistant volleyball coach at YHS.
One of the things that I need YOUR help with is to collect current contact information for each parent/guardian.  On the next page you will find a QR Code that you can scan or use the link listed to take you to a very brief survey.   This survey will take you about 2-3 minutes to complete and you can easily do it on your cell phone.  Thanks in advance for completing this survey, it is a large task to collect email and contact information for 540 students, your help is greatly appreciated!
I look forward to seeing each of you in just a short few weeks.  My contact information is on the next page, please do not ever hesitate to contact me!  
Sincerely,
Kris Friesen
Contact Information for Building Administration:
Mrs. Kris Friesen, Principal Mr. Ken Booth, Assistant Principal
402-362-1414, ext 104 402-362-1414, ext 107
                                Wednesday, August 10, 5:30-6:30
Back to School Night Information:
Wednesday, August 10, 5:30-6:30 pm
Come and visit your classroom and bring in your supplies
Enter through the main front doors
Be sure to get your child's Back to School Folder with important information
Set up in the MPR will be: Transportation, school nurse, BOOST/Daycare
Parent/Guardian Survey
Please use the link below to complete an important survey!  Parents and Guardians of YES students are being asked to complete this brief survey asking for contact information.  It is our goal to have this survey completed by all families on or before the 1st day of classes, August 11, 2016! 
Link to use for Survey:   http://goo.gl/forms/HOd6s6pwuqFOZhQ42