No Comments
Transportation for 2022-2023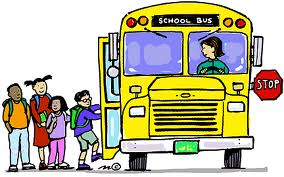 For all students requiring transportation during the
2022-2023 school year:
Registering your child or children is a yearly responsibility and all who ride MUST register.  Routes for over 500 students, including stops and times, are designed based on the information we receive by the deadline. Please fill out and return to your child's school* no later than July 15, 2022.  Any registration received after this deadline will not be eligible for or receive transportation during the first week of school.   Please note that ALL school registration nights are after this date and those who choose to register at Back to School night will not be eligible to ride until August 29th.
For those that pre–register:
Stop information will be printed on a bright blue card that will be placed in your child's Back to School folder or packet. This card is for you to keep.  If you receive a bright blue card in your packet, you will NOT need to stop at the Transportation Department table on Back to School night.
On the first day of school, color cards will be handed out to all students K – 5 who registered prior to the deadline.  This card displays your child's name, teacher or building, and stop location.  Any student not possessing a bus card will not receive transportation and will be sent back into their school and allowed to call their parent.  Any registrations received after July 22nd, will be contacted by the Transportation Department and informed of their start date.  If you have any questions, the Transportation Department can be reached at 402-362-1988.  Thank you for joining us in our efforts to make the first days of school run smoothly at route times.
*Registrations turned in after the last day of school may be sent to the District Office at 1715 N Delaware Ave, York, NE  68467  Attn:  Transportation Department
The deadline for this year is July 15, 2022.  Completed forms can be turned in to the office or the Bus Barn at 2904 Enterprise Ave.  Thank you for registering early!