"Assisting to preserve and/or enhance the quality of education for YPS students"
Established- 2007
501(c)(3) Non-profit organization
Two factors in the past few years have pushed the YPS Foundation to seek out more ways to raise money to meet our mission.
Lack of adequate state funding for education

Increase in property taxes
The above-mentioned reasons make it difficult for YPS to meet student needs while also keeping taxpayer increases at the forefront of budget-making decisions.
 "Luck of the Draw" was our first major fundraiser on April 27, 2018. It was a reverse drawing limited to 300 tickets with a prize of $5000. Thanks to the efforts of many and the support of local businesses, it was a great success. We raised almost $10,000. We are now involved in our first annual fundraising drive. The main purpose of this first annual drive is to bring awareness of the Foundation to alumni and the public in general and, depending on the support, to be able to establish an endowment fund so that the Foundation is able to support YPS projects as needed in the future. Except for the "Luck of the Draw" last April, all of our fundraisers have been either meal deals or working concessions which brought in enough to grant some individual classroom requests and help set up the Phil-Anthropy account in Phil Towle's honor.  We haven't set a specific goal for this year, nor have we determined what the amount would be for the establishment of a viable endowment fund; but we are reaching out to local financial advisors who might be interested in investing that money in order to get their recommendations.

Please consider becoming a donor. The following donor levels have been established as Friends of the Foundation:
  Friend – $25-$99                  Builder – $250 – $499                  Navy & Gold – $1000 – $2,499
Believer – $100 – 249               Founder – $500 – $999             Forever a Duke – $2500 & above
---
using PayPal or print off this FORM and send it with your payment.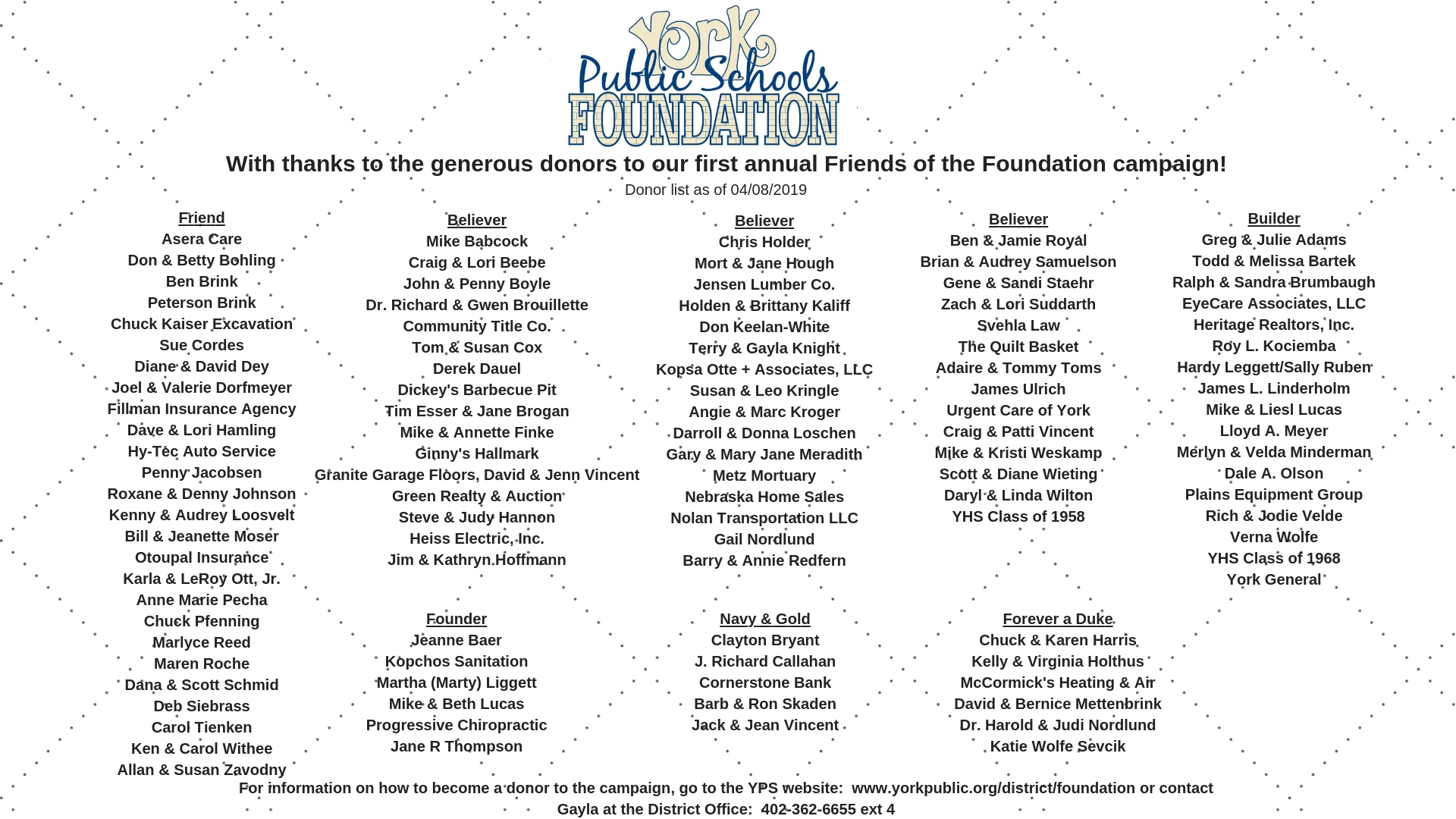 YPS Foundation Board Members
Sally Ruben, President           Tony North, Vice-President
Lori Suddarth, Secretary          Jean Vincent, Treasurer
Julie Adams    Derek Dauel    Dr. Patrick Hotovy
Gayla Knight     Amie Kopcho   Kent Rauert    Barb Skaden
Dr. Mitch Bartholomew, Ex Officio member
Through the years, the Foundation has supported a myriad of projects through donations by individuals, local businesses and organizations, YHS graduated classes, and grants through other foundations.  Board members have raised funds for classroom grants on a yearly basis, conducted our first major fundraiser "The Luck of the Draw" in the spring of 2018, and created the Friends of the Foundation annual campaign in hopes of establishing an endowment fund for the Foundation.
In addition, "Project Phil-Anthropy" was established in honor of Phil Towle, retired teacher-counselor, coach, and school board member to continue his work in helping students in need at each of our schools.  The annual goal for this fund is $7,500, which would allow us to maintain a positive balance in this account so that this program is sustainable for years to come.  If interested in donating to this particular fund, please make your check payable to the YPS Foundation with ATTN: "Project Philanthropy" on the memo line or on the envelope.
There is also an ongoing effort to gather contact information on YHS graduates in order to maintain a database for the Foundation.  Those who are in possession of class contact information are encouraged to contact the Foundation through the YPS District Office at (402) 362-6655 ext. 4.
---
If you would like to financially support the York Public Schools Foundation, donations are accepted at the YPS District Office.  Please feel free to stop by or mail your donation to:
York Public Schools Foundation
Attn:  Gayla Knight
1715 N. Delaware Ave.
York, NE  68467
gayla.knight@yorkdukes.org

Thank you in advance for your support!